You've worked hard all winter long on those indoor gardens and now they are in full swing! But, with summer just around the corner, it's time to start preparing to move those gardens outside.
Don't worry- the time spent on your indoor gardens was not for naught. A healthy, robust plant started inside will actually help you get maximum yields when you take it outside. Read on for some tips and great products to get the most out of your vegging plants as you move them to the "great outdoors".
The Right Bulb = Hortilux PowerVEG T5 Bulbs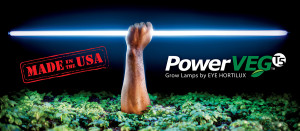 Customers have been waiting months for these bulbs and now we have them!
Have you ever seen a spectral distribution for a T5 grow bulb? Most likely you have not. That's because what is currently available on the market is all the same. From brand to brand they have nothing unique or different to offer. The only real difference is their Kelvin Temperature and, contrary to popular belief, Kelvin Temperature does not affect plant growth in any way whatsoever.
PowerVEG is different. Not only does it produce a well balanced spectrum for your plants, it also provides UVA and UVB. UV is an essential component of the spectrum that produces stronger, healthier plants, allowing them to produce higher quality fruits and flowers. The sooner you introduce UV to your plants, the better your end product. No other T5 bulb on the market produces a spectrum with this quality or UV of any kind.
The Right Pots = Dirt Pots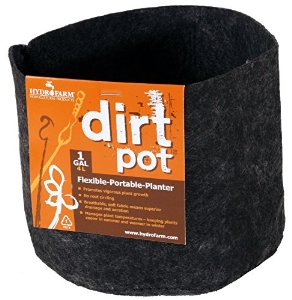 Lightweight and reusable, Hydrofarm's fabric planters offer value and versatility to all gardening enthusiasts.
Made from porous breathable fabric, these planters allow your plants to thrive, promoting exceptional root health and vigorous plant growth. The soft-sided construction allows the planter to conform to your terrain, making it the perfect choice for all growing areas. They are stronger than similar products, with reinforced seams and strength-tested fabric, so they won't tear when supporting even the heaviest crop.
The Right Mycorrhiza = Mycos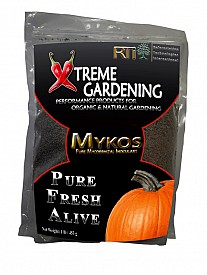 A beneficial organism, Mycorrhiza, plural Mycorrhizae, lives on the roots of plants and forms a symbiotic relationship. It then extends microscopic straw-like filaments called "hyphae" into the soil with which it extracts, transports, and dramatically increases a host plant's supply of nutrients and moisture. Pockets of nutrients and water in the soil which were once unreachable by standard root systems are now made accessible through the "super-mining" effects which mycorrhiza gifts to your plants.
Mycorrhizal fungi are ancient in origin and the benefits are boundless. Pound for pound mycorrhiza provides plants with the greatest possible benefit for the smallest amount of input. With a single inoculation, mycorrhiza is capable of transforming the ordinary garden into something Xtreme!
New To Stock: The Phantom Commercial DE Enclosed Lighting System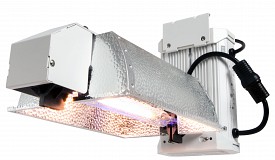 The Commercial Enclosed DE Lighting System is state-of-the-art double-ended technology that uniformly delivers optimum PAR value over a broad footprint. The Commercial Enclosed DE Lighting System gives you the unique ability to remove the ballast from the reflector so it can be used remotely, allowing you to operate the ballast outside of your grow room, to effectively reduce heat load.