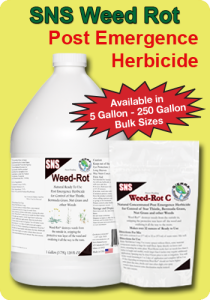 April Showers Bring May Flowers (And Weeds!)
SNS Weed-Rot is an all natural herbicide that destroys weeds from the outside in, stripping the protective wax layer off the weed and oxidizing it all the way to the roots. Use it to get rid of the May "weeds" while keeping the flowers in full bloom!

Make Your Water Work Harder For You
SNS Hydrobiotics is a probiotic inoculant containing powerful microbes for maintaining hydroponic reservoirs & watering systems as an aid to help reduce system fouling.
Humidity Control From The Experts
Boveda knows a lot about 2-way humidity control for packages and containers. In fact, they invented it! The Boveda Humidity Packs allow you to Maintain the ideal moisture content of the items inside your container. While other products either add or remove moisture, Boveda does both! You can learn more about the product and it's great benefits by watching this video  We carry the 62 Humidity Level in the 60 gram pack- perfect for your garden!
Now Carrying: The DigiLamp!
It's brand new to our stock and we couldn't be more excited! It's the Plantmax DigiLamp 1000 watt HPS Bulbs. This grow light is electronic ballast friendly, has supreme light efficiency and super high lumens. With a long life of 24,000 hours, give one a try! Best part? It's Only $89!